Director of Lands
Travis Stewart
Travis Stewart is part of the Crow clan, his mother is May Stewart, and his Grandmother was May Brodhagen. His traditional name is Dena Cho.
Both his parents were RCMP Officers. In the summers he spent time with his Grandparents on the Hyland River and in the Selwyn mountain ranges. He moved back to the Kaska traditional territory 11 years go after completing his post secondary education. When he moved back, he worked for a community-based non-profit for several years. He has run in three different LFN elections and was successfully voted in as a LFN Councillor from 2017-2020.
Presently he sits as the LFN Lands Director and has the privilege of speaking about Kaska rights and title for LFN. The Kaska traditional territory is a borderless nation that encompasses 90,000 square miles extending from MacMillan Pass in the North to Williston Lake in the South. The Kaska traditional territory includes Federal, Territorial, and Provincial jurisdictions via NWT/ Yukon/ & B.C.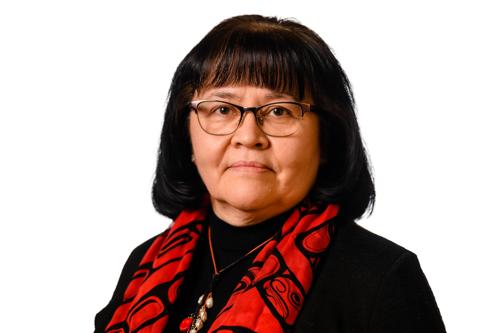 Director of Justice
May Stewart
May Stewart is Kaska and a member of the Crow Clan. She has three adult children Samantha, Crystal, and Travis. She has been inspired by her mother May Brodhagen to pass on her traditional experience and knowledge on to the next generations including to her Grand-daughter Hazel. She is an advocate for collaborative approaches that are rooted in community-based solutions and tries to demonstrate that in her role as Justice Director over the past ten years.
She enjoys spending time on the land with family and friends on the trapline along the Highland River, camping, hunting, fishing, and boating. She also enjoys sewing and beading traditional regalia.
Human Resources Director
Sam Stewart
Samantha was born and raised in the Yukon and is a member of the Crow Clan with Liard First Nation. She is the youngest daughter of May Stewart and a granddaughter of the late May Brodhagen. Samantha is grateful for the knowledge and life experience she has gained from her family throughout the Kaska Territory.
Samantha has a Bachelor of Science degree from St. Francis Xavier University, and a Human Resources Management Certificate from the University of Alberta's Faculty of Extension. Before joining the Liard First Nation team as the Human Resources Director, Samantha worked in the Federal Public Service as a Human Resources Advisor providing advice and guidance to managers on various human resources disciplines including training and professional development. Samantha has a passion for performance management and wellness and hopes to build the capacity within LFN to help all employees to feel empowered and reach their career goals.
Director of Health & Social
Katherine Durocher
Katherine Durocher is a Registered Nurse who worked at the Watson Lake Community Hospital Watson lake since 2000. We welcomed her to the LFN team full time in April 2021. Originally from Surrey, BC she raised all 5 of her children in beautiful Watson Lake. Now all 7 of her Grandchildren are living in the Yukon. She is excited to come on board with LFN as the new Health and Social Director.
Capital and Infrastructure Director
Jeff Loosemore
Director of Language
Martina Volfova
Education
Vacant
Finance
Vacant
Executive Director
Vacant