Executive Director
Vacant

Director of Lands
Travis Stewart
Travis Stewart is part of the Crow clan, his mother is May Stewart, and his Grandmother was May Brodhagen. His traditional name is Dena Cho.
Both his parents were RCMP Officers. In the summers he spent time with his Grandparents on the Hyland River and in the Selwyn mountain ranges. He moved back to the Kaska traditional territory 11 years go after completing his post secondary education. When he moved back, he worked for a community-based non-profit for several years. He has run in three different LFN elections and was successfully voted in as a LFN Councillor from 2017-2020.
Presently he sits as the LFN Lands Director and has the privilege of speaking about Kaska rights and title for LFN. The Kaska traditional territory is a borderless nation that encompasses 90,000 square miles extending from MacMillan Pass in the North to Williston Lake in the South. The Kaska traditional territory includes Federal, Territorial, and Provincial jurisdictions via NWT/ Yukon/ & B.C.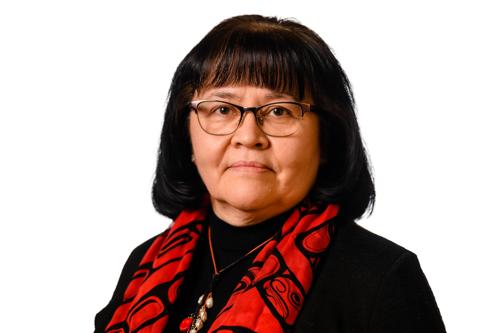 Director of Justice
May Stewart
May Stewart is Kaska and a member of the Crow Clan. She has three adult children Samantha, Crystal, and Travis. She has been inspired by her mother May Brodhagen to pass on her traditional experience and knowledge on to the next generations including to her Grand-daughter Hazel. She is an advocate for collaborative approaches that are rooted in community-based solutions and tries to demonstrate that in her role as Justice Director over the past ten years.
She enjoys spending time on the land with family and friends on the trapline along the Highland River, camping, hunting, fishing, and boating. She also enjoys sewing and beading traditional regalia.
Director of Language
Martina Volfová
Martina's Kaska name is Nóghā́mā, given to her by Elder Robert Jules. She has been adopted into the Wolf Clan by Leda and Robert Jules. Martina first came through the Kaska territory in 2001, while on a solo bicycle trip across Canada to Alaska. She fell in love with the place instantly and knew she wanted to find her way back to get to know it better. She returned in the summer of 2014 and 2015 as a part of a UBC team, recording with Kaska Elders for the Kaska Talking Dictionary project. During this time, Martina formed a number of truly life-changing relationships with people in the community.
In 2016, Martina moved to Watson Lake permanently and began working on other Kaska language projects with speakers from Watson Lake, Lower Post, and Ross River. In 2018, Martina became the Director of the LFN Language Department. She has been passionate about languages since she was a child, which eventually led her to studying linguistics and Spanish, earning a Bachelor's Degree from the University of Minnesota. Her primary focus of study was on second language acquisition and the maintenance of Indigenous and minority languages. After years of working as a language teacher in the US and Canada, she decided to go back to school, pursuing her interest in Indigenous languages, eventually earning a Master's Degree in Linguistic Anthropology from Northern Arizona University in Flagstaff Arizona. During her studies, Martina worked with Shoshone and Goshute youth from Utah, Nevada, and Idaho on the reclamation of their ancestral languages. Martina continued her studies at the UBC, where she completed her PhD in Linguistic Anthropology. Her research focused on her collaborative work with the Kaska communities to ensure the longevity and sustainability of Kaska language renewal efforts.
In her free time, Martina loves spending time outside, especially hiking and skiing in the nearby mountains. She enjoys photography and has been captivated by the beauty of the Kaska territory ever since she arrived. One of her favourite things to do is picking berries with Elders, listening to their stories and learning more about the Kaska land and history.
Director of Health & Social
Vacant
Director of Capital and Infrastructure
Vacant
Vacant
Director of Education and Employment

Vacant
Director of Human Resources
Vacant
Vacant
Finance Manager
Vacant